OISTE.ORG and WISe.ART artists are regularly raising funds by selling NFTs. This month all proceeds will be donated to: Nuevo Hogar Betania. They need your support now!
#women #womensright #l4l #girls #likesforlikes #celebration #womanright #respect
How can NFTs (Non-Fungible Tokens) help stop Human trafficking and abuse with an innovative formula to finance aid to NGOs, like the Nuevo Hogar Betania Foundation?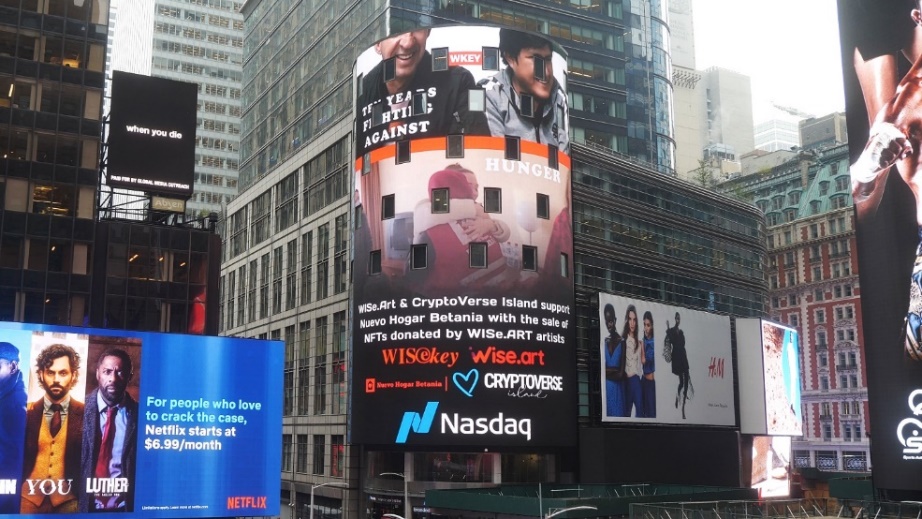 Geneva, Switzerland – April 21, 2023: WISeKey International Holding ("WISeKey", SIX: WIHN, NASDAQ: WKEY), a leading cybersecurity, AI and IoT company, announced today that on behalf of OISTE, WISe.ART is going to create limited editions NFTs with AI generated art and traditional art pieces donated by the participating artists to raise funds for the NGO, Nuevo Hogar Betania, thus contributing to the magnificent work they do for those in dire need. Nuevo Hogar Betania also carries out tasks of protection and assistance to women in contexts of prostitution and detection of possible cases of trafficking, awareness raising and prevention of gender violence. In the same way, they contribute to the training of health, social, educational professionals and State Security Forces and Corps so that they can deal with treatment with victims from a gender perspective in their interventions. The entity has also developed specific care programs for women and the fight against gender inequalities and sexist violence since 2012. In its last financial year, they counted 784 cares for women and minors.
Click on the Urls below to buy and support the Nuevo Hogar Betania Foundation:
About Nuevo Hogar Betania:
https://nuevohogarbetania.com/area-trata-seres-humanos
In the following link, you can Begoña Arana (Princess of Girona Award 2019), Director of Nuevo Hogar Betania, with Queen Leticia in one of her acts (to the right of the Queen).
https://smoda.elpais.com/moda/la-reina-letizia-luce-una-blusa-confeccionada-por-mujeres-supervivientes-de-la-explotacion-sexual/
Nuevo Hogar Betania is a non-profit association. Our mission is to help anyone who is in a situation of social exclusion (homeless, prisoners and ex-prisoners, immigrants, women victims of human trafficking, families, immigrants…).
Our approach
To be innovative: To develop and implement solutions to the multiple problems faced by the most vulnerable individuals and families.
Achieve results at scale: : Support effective implementation of best practices, programmes and policies for our users, leveraging our expertise to ensure sustainable impact at scale.
Be the voice: Advocate and campaign for greater awareness of human rights.
Building bridges: Collaborate with our constituencies, civil society organisations, public administrations and the private sector to share knowledge through continuous feedback, with the goal of respecting people's rights.

The Sustainable Development Goals, SDGs, represent basic principles to end poverty, protect the planet and ensure that all people enjoy peace and prosperity. 
At Nuevo Hogar Betania, we work in line with these Sustainable Development Goals, providing solutions to poverty and hunger and providing projects that improve the health and well-being of the people who come to our resources. We are committed to personal growth, work and quality education, reducing inequalities of any kind and working together, creating alliances, to achieve our main objectives: peace and justice.
About WISe.ART: WISe.ART is a fully-fledged marketplace. It can connect all actors of the arts industry.  Our white-labelling options and special NFT designs ensure that besides an authenticated and signed version of the actual digital asset, creating an irreversible link to the physical object, providing proof of ownership, provenance, and a set of smart contracts describing future use and monetization streams.
The WISe.ART NFT platform is fully secured by WISeKey's innovative security technologies enabling the authentication of digital assets, in a safe end-to-end process based on our experience and proven expertise in this domain.
About WISeKey: WISeKey (NASDAQ: WKEY; SIX Swiss Exchange: WIHN) is a leading global cybersecurity company currently deploying large scale digital identity ecosystems for people and objects using Blockchain, AI and IoT respecting the Human as the Fulcrum of the Internet. WISeKey microprocessors secure the pervasive computing shaping today's Internet of Everything. WISeKey IoT has an install base of over 1.5 billion microchips in virtually all IoT sectors (connected cars, smart cities, drones, agricultural sensors, anti-counterfeiting, smart lighting, servers, computers, mobile phones, crypto tokens etc.).  WISeKey is uniquely positioned to be at the edge of IoT as our semiconductors produce a huge amount of Big Data that, when analyzed with Artificial Intelligence (AI), can help industrial applications to predict the failure of their equipment before it happens.
Our technology is Trusted by the OISTE/WISeKey's Swiss based cryptographic Root of Trust ("RoT") provides secure authentication and identification, in both physical and virtual environments, for the Internet of Things, Blockchain and Artificial Intelligence. The WISeKey RoT serves as a common trust anchor to ensure the integrity of online transactions among objects and between objects and people. For more information, visit www.wisekey.com.
Press and investor contacts:
WISeKey International Holding Ltd
Company Contact:  Carlos Moreira
Chairman & CEO
Tel: +41 22 594 3000
info@wisekey.com    
 
WISeKey Investor Relations (US)
Contact:  Lena Cati
The Equity Group Inc.
Tel: +1 212 836-9611
lcati@equityny.com

 
Disclaimer:
This communication expressly or implicitly contains certain forward-looking statements concerning WISeKey International Holding Ltd and its business. Such statements involve certain known and unknown risks, uncertainties and other factors, which could cause the actual results, financial condition, performance or achievements of WISeKey International Holding Ltd to be materially different from any future results, performance or achievements expressed or implied by such forward-looking statements. WISeKey International Holding Ltd is providing this communication as of this date and does not undertake to update any forward-looking statements contained herein because of new information, future events or otherwise.
This press release does not constitute an offer to sell, or a solicitation of an offer to buy, any securities, and it does not constitute an offering prospectus within the meaning of article 652a or article 1156 of the Swiss Code of Obligations or a listing prospectus within the meaning of the listing rules of the SIX Swiss Exchange. Investors must rely on their own evaluation of WISeKey and its securities, including the merits and risks involved. Nothing contained herein is, or shall be relied on as, a promise or representation as to the future performance of WISeKey.