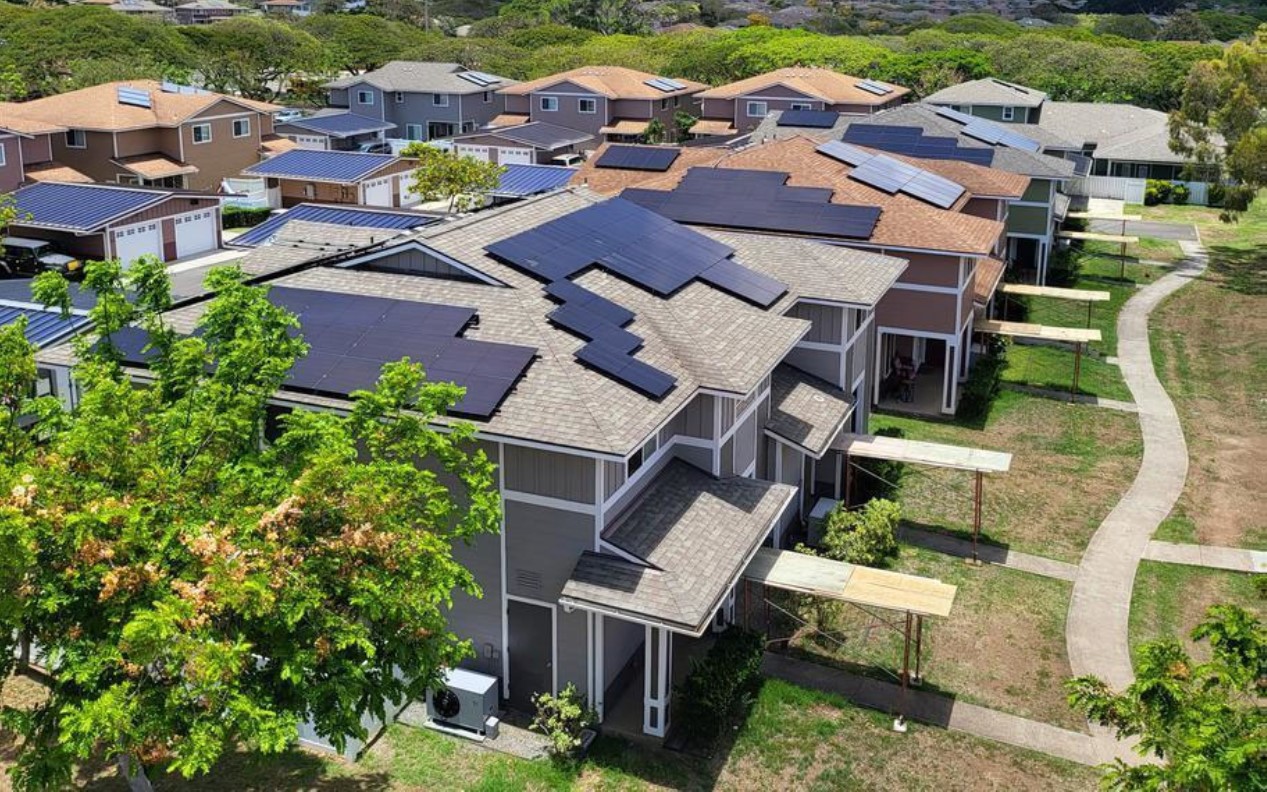 SANTA CLARA, California, April 20, 2023 (GLOBE NEWSWIRE) — Borqs Technologies, Inc. (Nasdaq: BRQS, "Borqs", or the "Company"), a global provider of 5G wireless solutions, Internet of Things (IoT) solutions, and innovative clean energy, announced that its subsidiary, Holu Hou Energy LLC (HHE), a provider of design-to-service solar plus energy storage systems, has signed a contract to install HHE's HoluPower energy storage and solar photovoltaic (PV) systems on homes at Lendlease's Island Palm Communities (IPC) in Honolulu, Hawaii. When completed, the project will be worth well into the nine figures in sales for HHE.
Lendlease, a leading real estate and investment group that manages almost 8,000 homes for the U.S. Army on Oahu, is the purchaser of the electricity and the installations will come in the form of HHE's EnergyCluster, where multiple residential units have their systems connected in an energy network or "cluster." Excess solar generation from any unit's system in the network that would normally be lost is directly shared in real time with other connected units that have load above solar generation. The benefit is that the optimized PV and energy storage systems can meet 75-80% or more of the overall residents' energy needs while not exporting power to the utility grid.
"Lendlease Communities is proud to partner with Holu Hou Energy on this innovative renewable energy project, which will not only improve the quality of life for military families at Island Palm Communities, but also contribute to a more resilient and stable electric grid in Oahu," said Matt Lynn, SVP, Energy & Utilities at Lendlease. "This partnership further solidifies our commitment to developing sustainable communities using cutting-edge technology." (See Note 1 below.)
Lendlease and HHE began initial planning in 2021, which culminated in constructing a "pilot" project in May 2022. Since then, the pilot has been operating with outstanding results across six residential units. In a typical month, approximately a third of the total generated electricity is shared with other units in the "cluster" thereby solving issues related to vacancy and resident load variability, while proving out the superior value created through a clustered approach versus stand-alone systems.
The savings realized by Island Palm Communities through deployment of HHE's systems is being reinvested to enhance the housing and amenities Lendlease offers to military families on the installation. Additionally, residents now have resilient back-up power that can be utilized during grid outage events. These systems also take a load burden off the Oahu electric grid, which improves overall stability.
Each residential unit will have approximately 10kW of PV and 25 kWh of energy storage, with six residences typically being connected in an HHE EnergyShare network. Construction is set to begin summer of 2023, with initial installations at the Aliamanu Military Reservation near Honolulu.
"Congratulations to the team at Holu Hou Energy for securing this monumental contract with Lendlease's Island Palm Communities. This project is enormous in size, covering thousands of homes and has proven again Holu Hou Energy's technological leadership. We expect it to enhance the value of HHE significantly in the divestment of our interests in HHE as stipulated in our agreement with the Committee on Foreign Investment in the United States ("CFIUS")," stated Mr. Pat Chan, CEO of Borqs.
Note 1. Source: https://www.lendlease.com/us/media-center/media-releases/lendlease-and-holu-hou-energy-sign-contract/
About Lendlease
Lendlease (www.lendlease.com) is a leading global real estate and investment group with operations in Australia, Asia, Europe and the Americas. Our purpose is to create places where communities thrive. Headquartered in Sydney, Australia, and listed on the Australian Securities Exchange, Lendlease has approximately 7,700 employees internationally. Our core capabilities are reflected in our operating segments of Development, Construction and Investments. The combination of these three segments provides us with a sustainable competitive advantage and allows us to provide innovative integrated solutions for our customers. In the US, Lendlease's Communities business is one of the nation's leaders in public/private community development. We manage one of the largest military housing portfolios in the US and are the Army's exclusive partner for lodging. With a focus on creating sustainable value, Lendlease creates communities that regenerate our environment, enrich people's lives and foster economic growth. Lendlease has worked extensively with the Department of Defense through the Military Housing Privatization Initiative (MHPI), a program that provides for the transfer of military housing assets to private sector companies. With over 40,000 residential units, 192 apartments and more than 12,000 hotel rooms in its portfolio, Lendlease will finance, develop, build, renovate and operate these sites for at least 50 years.
About Holu Hou Energy, LLC
Holu Hou Energy, LLC, a Delaware Corporation, brings state-of-the-art renewable energy and energy storage systems to the Single-Family Residential, Multi-Dwelling Unit Residential and Commercial building markets. With operations in California, Hawaii, Wisconsin and Shanghai, HHE engineers proprietary storage system and control platform solutions, including a breakthrough "HHE Energy Share" technology
that is key to development of the Multi-Dwelling Unit Residential housing market. HHE is a vital partner for investors and asset owners that are seeking ESG solutions. For more information, visit www.holuhou.com
About Borqs Technologies, Inc.
Borqs Technologies (Nasdaq: BRQS, "Borqs", or the "Company") is a global leader in software and products for the IoT, providing customizable, differentiated and scalable Android-based smart connected devices and cloud service solutions. Borqs has achieved leadership and customer recognition as an innovative end-to-end IoT solutions provider leveraging its strategic chipset partner relationships as well as its broad software and IP portfolio. Borqs' unique strengths include its Android and Android Wear Licenses which enabled the Company to develop a software IP library covering chipset software, Android enhancements, domain specific usage and system performance optimization, suitable for large and low volume customized products, and is also currently in development of 5G products for phones and hotspots. Website: www.borqs.com.
Forward-Looking Statements and Additional Information
This press release includes "forward-looking statements" that involve risks and uncertainties that could cause actual results to differ materially from what is expected. Words such as "forecasts", "expects", "believes", "anticipates", "intends", "estimates", "predicts", "seeks", "may", "might", "plan", "possible", "should", "estimates" and variations and similar words and expressions are intended to identify such forward-looking statements, but the absence of these words does not mean that a statement is not forward-looking. Such forward-looking statements relate to future events or future results, based on currently available information and reflect our management's current beliefs. Many factors could cause actual events or results to differ materially from the events and results discussed in the forward-looking statements, including the possibility that the positive financial results from the contract between HHE and IPC and the proposed divestment as described herein may not be realized, and the negative impact of the COVID-19 pandemic on the Company's supply chain, revenues and overall results of operations, so the reader is advised to refer to the Risk Factors sections of the Company's filings with the Securities and Exchange Commission for additional information identifying important factors that could cause actual results to differ materially from those anticipated in the forward-looking statements. Except as expressly required by applicable securities law, the Company disclaims any obligation to update any forward-looking statements, whether as a result of new information, future events or otherwise.
Investor Contact:
Sandra Dou
Vice President of Corporate Finance
Borqs Technologies, Inc.
IR@borqs.com
www.borqs.com
A photo accompanying this announcement is available at https://www.globenewswire.com/NewsRoom/AttachmentNg/8bd112db-d15e-43aa-90bf-af84b87c5788