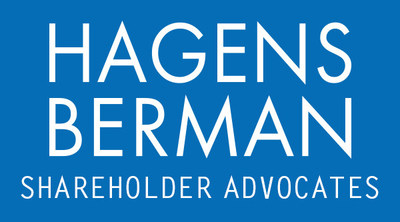 SAN FRANCISCO, April 17, 2023 (GLOBE NEWSWIRE) — Hagens Berman, national trial attorneys, urges Signature Bank (NASDAQ: SBNY) investors who suffered substantial losses to submit your losses now.
Class Period: Mar. 2, 2023 – Mar. 12, 2023
Lead Plaintiff Deadline: May 15, 2023
Visit: www.hbsslaw.com/investor-fraud/SBNY
Contact An Attorney Now: SBNY@hbsslaw.com
                                              844-916-0895
Signature Bank (SBNY) Securities Fraud Class Action:
On Apr. 4, 2023, The Wall Street Journal reported Signature Bank insiders sold $100 million in stock as the bank pivoted to attract cryptocurrency companies and became a stock-market darling. The executives sold many of their 2021 shares in the spring at around $220. Signature was one of only two companies in the S&P 500 that didn't file insider-trading transactions with the SEC. The other was First Republic Bank. The bank also appeared to miscategorize some of its FDIC filings as dispositions to the company, meaning the shares were sold to the company, rather than sales on the open market.
The litigation focuses on Signature Bank's repeated assurances that it was in a strong financial position despite the undisclosed risks it took.
Investors began to learn the truth on Mar. 12, 2023, when the New York Department of Financial Services announced that, to protect Signature Bank depositors, DFS had taken possession of the bank and appointed the Federal Deposit Insurance Corporation as the bank's receiver.
"We're focused on investors' losses and investigating Signature Bank's known but undisclosed risks, while insiders dumped their shares," said Reed Kathrein, the Hagens Berman partner leading the investigation.
If you invested in Signature Bank and have substantial losses, or have knowledge that may assist the firm's investigation, click here to discuss your legal rights with Hagens Berman.
Whistleblowers: Persons with non-public information regarding Signature Bank should consider their options to help in the investigation or take advantage of the SEC Whistleblower program. Under the new program, whistleblowers who provide original information may receive rewards totaling up to 30 percent of any successful recovery made by the SEC. For more information, call Reed Kathrein at 844-916-0895 or email SBNY@hbsslaw.com.
About Hagens Berman
Hagens Berman is a global plaintiffs' rights complex litigation law firm focusing on corporate accountability through class-action law. The firm is home to a robust securities litigation practice and represents investors as well as whistleblowers, workers, consumers and others in cases achieving real results for those harmed by corporate negligence and fraud. More about the firm and its successes can be found at hbsslaw.com. Follow the firm for updates and news at @ClassActionLaw.
Contact:
Reed Kathrein, 844-916-0895